Search online to find out exactly what materials, colors, stitching and logo placements are supposed to be for the product you are purchasing. Fakes may be very similar to a particular style, but often get details wrong.
Look at logo placement. Real LV products always have the logos placed symmetrically. A Louis Vuitton product will never have the LV logo cut off, if the logo apears half on and half off the purse, wallet or whatever, it's fake.
Examine the leather (the purse itself, not the strap). Fake: The leather is rather hard, tough, and rough. Real: The leather is smooth.
Look at the zipper. Fake: The zipper is rough and is not so easy to open. The zipper might be broken; the zipper easily breaks. Real: The zipper is extremely smooth; it's easy to open the purse. One swish of your hand and the purse is open.
Louis Vuitton stitching is done perfectly. You will not see loose threads or ends on an authentic Louis Vuitton bag.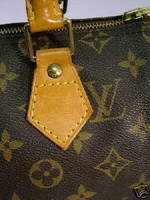 Louis Vuitton does not discount, have outlets, sell wholesale or have their products in open air markets.
Tags are never attached to a Louis Vuitton bag. They may come with tags, but they are simply placed in the purse or dust bag.
from wikihow.com, handbags.lovetoknow.com