Hey blogworld!! I miss posting... It's very strange of me but lately I have been detached with my computer. I haven't touched it for days. Well, I have been doing nothing actually, by nothing I mean jogging in the morning, graduation practices whole day, sleeping and playing with my ipod all through out the day. I get to access twitter and facebook so I don't really bother using my laptop anymore. Boohoo! Well enough of this nonsense.
Saturday is graduation, I leave for the States on the 15th for 3 whole friggin' months! I can't wait to see family, eat good food, rest, stay away from the heat, and SHOP! I will be traveling alone (Manila-US) for the first time! and uh, I'm kinda' envisioning my comfy 12hour plane ride outfit already.
I will be making use of whatever I have in my closet, work on pieces I can use over and over again and are easy to "wash and wear".
(There'd be no one to iron my clothes in the States!)
MUST REMEMBER:
Pack LIGHT!
Perfect outfit: slouchy shirt, blazer, comfy/sweat pants. Here are some of my inspirtations
PROENZA
ELIE TAHARI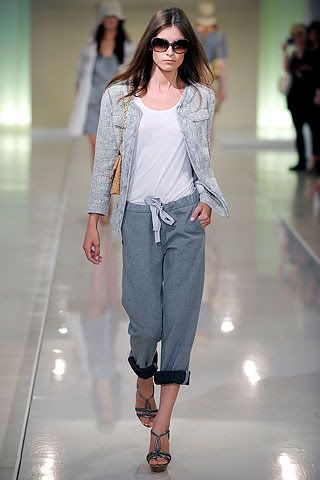 RAG AND BONE
A.WANG
Could this be my slightest chance to layer, wear blazers and THE leather jacket I have been lusting about ever since.
So you, YES! You!
Where are you headed this summer?
Share your insights about this post.
Don't forget to leave a comment.
Like what you're reading?
CLICK
HERE
to Follow ME