Weirdest title ever!! I am running out of ideas!! I keep running out of anything... must must make my brain cells RUN!!
Got the day off today and thought I'd try on my clothes since I never get to wear them.. Ahh! I can't wait for summer... I'd get to wear shorts and skirts!! We have saturdays and sundays as our non school uniform days but we don't get to wear shorts and skirts since we follow a very strict dress code. We basically wear shirts and jeans to school. =) yeah that bland. =p I must admit! I feel very unstylish most of the time. I run out of outfit ideas and almost always feel I have nothing to wear. Oh, here we go again!!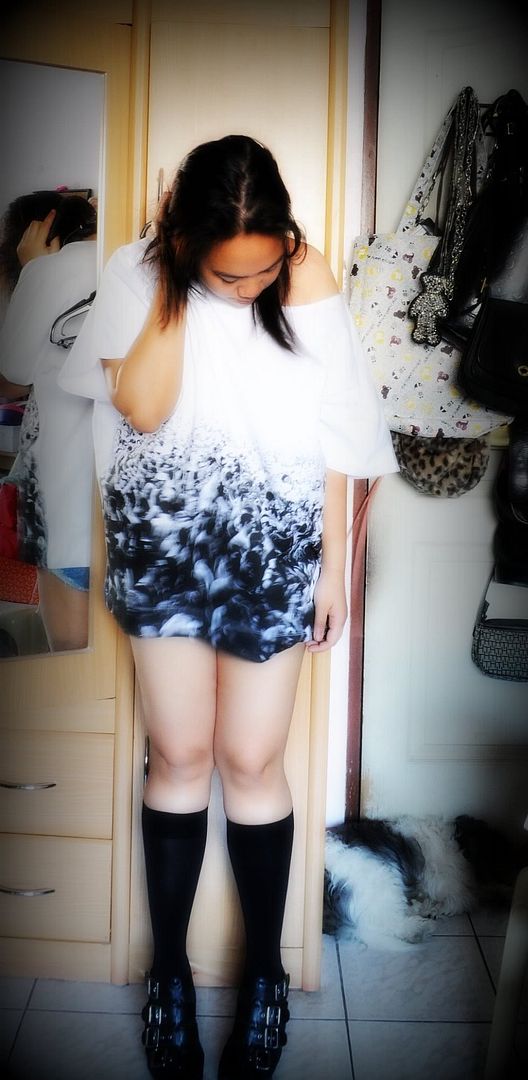 I saw this shirt from Topshop and grabbed it right away without even trying it on. It appears too big but I guess I could do more with it. I am again in love with the print, so I am trying my best to pull it off. And, yeah, I was never really a fan of stockings with open toe shoes, but I got these stay up black stockings and they matched my Forever 21 wedges well. It may a late response to this trend but I am diggin' it actually. =)
Summer is fast approaching... I smell floral prints,khaki, nude, whites, shorts, and cropped shirts.
Oh no! I pray for cold weather, rain!! please come.

Note to self:
must get the perfect white button down. I don't know why, it feels like a necessity.